Are all of the autographs on the site available for purchase?

Yes, you can purchase anything from our online selection. Please contact us by phone or our email address if you have questions about anything that you see on the site or if you are interested in purchasing an item. These are unique historical documents and photographs. They cannot be duplicated once they have been sold! Do not hesitate to phone or email for availability of other autographs or for your specific interests.
Please note: All Items are subject to prior sale.

Does The Inkwell Autograph Gallery maintain a physical storefront in addition to the website?

No, after 13 years we decided to close our retail store located in Gettysburg at the end of 2008 to focus exclusively on expanding and improving our internet operation. The Inkwell Autograph Gallery is well known for selling high quality authentic autographs. You can buy with complete confidence.
How do I know that the autograph that I am interested in is authentic?

The sale of forged autographs is a continuing problem in this industry. The Inkwell Autograph Gallery goes to great lengths to ensure that the only merchandise we sell is authentic. We stand behind our autographs 100%! Find out more about our certification here.

How does The Inkwell Autograph Gallery arrive at the prices for the items it sells?

Many factors are involved in the pricing of an autograph such as demand, content, and condition. Prices are subject to change without notice.


Are all of the items framed?

Most items are museum-quality conservation framed with an image of the signer. This process preserves the autograph and presents it as an impressive piece of art. Acid-free, pH neutral materials are used for matting, archival mylar "encapsulates" each autograph (this process is totally non-destructive and reversible if so desired). Plexiglas is used instead of glass because it filters out 95%-98% of harmful ultraviolet rays. We also offer a selection of unframed, shrink-wrapped, conservation matted items that include a photo.
PLEASE REMEMBER TO VISIT THE INKWELL GALLERY OUTLET SHOWCASE!
As most of you are aware we closed our retail gallery in Gettysburg at the end of 2008, but have re-established a retail presence. We now have a showcase in the Antique Center of Gettysburg located at 30 Baltimore Street (Showcase #22).
We are calling it The Inkwell Autograph Gallery Outlet at The Antique Center, which will feature a selection of inexpensive items, interesting autographs, and memorabilia NOT available on our website.

Please check back often as we are always adding new items. When visiting Gettysburg don't forget to check out our outlet case for some bargains.
Sincerely,
Lenamarie
717-337-2220
Will The Inkwell send my item to another address if it is a gift?

Of course we will! Just let us know that the item is a gift and we'll ship it to that address, but send you the receipt. You can even choose to have us send your personal message along with the gift at no additional charge! We assure you the gift will be safely packaged and will be nicely presented!
We offer a fine selection of signed books.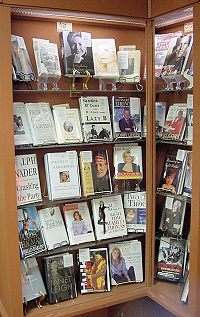 How can I find out more about a specific item?

You can mail, phone, or email questions or requests for specific items to us anytime. Please see our contact page for more information.

How does The Inkwell's shopping cart function?

When you add an item to your cart, the price will already include shipping and handling fees. You can pay through PayPal or your own credit card. We ship to confirmed PayPal addresses only.

What is The Inkwell's shipping policy?

The Inkwell ships items via United States Postal Service, to track a package click here USPS Priority Mail. The shipping prices listed on our site are for domestic shipping only. Please email/call us for International shipping rates, or if you wish to use a different shipping method.
We reserve the right to refuse shipping to certain foreign destinations.

What is The Inkwell's return policy?

If an item is misrepresented, it can be returned within 3 days after delivery for a full refund less shipping costs. It must be returned in the same condition as sold, and via the same shipping method. Also, the original store receipt and Certificate of Authenticity must accompany the item(s).

Does The Inkwell have a Layaway Policy?

Yes! A layaway plan is available for a period of three months. Depending upon the total of your layaway, an extension may be given, but is done so at the sole discretion of The Inkwell.
A down payment of 1/3 of total purchase is required for your order to be held. From date of order, payment is due each month thereafter on the same date. If paying by credit card, your card will automatically be charged each month on this date. If paying via check or money order, it is the customer's responsibility to ensure payment arrives on time. If payment will be late, please contact us at (717) 337-2220 to ensure your layaway is held. Once order is paid in full, your item will be shipped promptly. Any layaway that is not completed will receive a store credit.


Who has The Inkwell met in-person?

(Check back for new encounters!) (BOLD)=most recent encounters
Adele
Aerosmith
Alan Alda
Buzz Aldrin
Pamela Anderson
Mario Andretti
Julie Andrews
Neil Armstrong
Alison Arngrim
David Arquette
Rowan Atkinson (Mr. Bean)
Dan Aykroyd
Burt Bacharach
Alec Baldwin
Adrienne Barbeau
Charles Barkley
Mikhail Baryshnikov
The Beach Boys
Alan Bean
Jeff Beck
Pat Benatar & Neil "Spyder" Giraldo
Dierks Bentley
Chuck Berry
Valerie Bertinelli
Pete Best
Beyonce
Linda Blair
Blondie (Debbie Harry)
Charlie Bolden
Michael Bolton
Jason Bonham
Pattie Boyd
Vance Brand
Richard Branson
Bill Bruford (YES)
Pat Buchanan
Eric Burdon (The Animals)
Carol Burnett
Ken Burns
Gary Busey
Barbara Bush
Laura Bush
George H. W. Bush
George W. Bush
Scott Carpenter
Tia Carrere
Chris Carter/X-Files
Jimmy Carter
Eugene Cernan
Peter Cetera
Dick Cheney
Liz Cheney
Lynne Cheney
Bill Clinton
Hillary Clinton
Jackie Collins
Judy Collins
Michael Collins
Alice Cooper
Bill Cosby
Peter Criss (KISS)
Michael Crawford
Jamie Lee Curtis
Roger Daltrey
Bill Daly
Ray Davies (Kinks)
Geena Davis
Paula Deen
Giada DeLaurentiis
Jackie Deshannon
Bo Derek
Kurt Douglas
Micky Dolenz
Charlie Duke
Emerson, Lake & Palmer
Barbara Eden
Keith Emerson (ELP)
John Entwistle
Linda Evans
Sarah Ferguson
Lou Ferrigno
Mick Fleetwood
Peter Fonda
George Foreman
Foreigner
David Foster
Tommy Franks
Joe Frazier
Ace Frehley
Liam Gallagher (Oasis)
Terry Gilliam (Monty Python)
Newt Gingrich
John Glenn
The Go-Go's
Al Gore
Tipper Gore
Robert Goulet
Josh Groban
Rudy Guiliani
Fred Haise
Jerry Hall
Roy Halladay
Sean Hannity
Olivia Harrison
Terri Hatcher
Florence Henderson
Jennifer Love Hewitt
Paris Hilton
Al Hirschfeld
Mark/Brett Hudson (Hudson Brothers)
Eric Idle
Tony Iommi (Black Sabbath)
Hugh Jackman
Kareem Abdul Jabbar
Jefferson Starship
Kris Jenner (Kardashian)
Magic Johnson
Davy Jones
James Earl Jones
John Paul Jones
Shirley Jones
Sir Tom Jones
Caroline Kennedy
Ke$ha
Nicole Kidman
B. B. King
Henry Kissinger

Heidi Klum
Keira Knightley
Michael Kors
Billy J. Kramer
Patti LaBelle
Miranda Lambert
Floyd Landis
Michael Lang
Tommy Lasorda
Cliff Lee
Donovan Leitch
Cynthia Lennon
Jerry Lewis
Christopher Lloyd
Meat Loaf
Mario Lopez
James Lovell
Rob Lowe
Jeff Lynne
Sir John Major
Ray Manzarek (The Doors)
Penny Marshall
Sir George Martin
Giles Martin
Brian May
Peter Max
Cindy McCain
John McCain
Mary McCartney
Sir Paul McCartney
Duff McKagan (Guns n Roses)
Katherine McPhee
Johnny Miller
Heather Mills (McCartney)
Natalie Merchant
Aylssa Milano
Nicki Minaj
Edgar Mitchell
Roger Moore
Erin Moran
Matthew Morrison
Sir Stirling Moss
Mike Myers
Willie Nelson
Mike Nesmith
Stevie Nicks
Peter Noone
Ted Nugent
Rosie O'Donnell
Ryan O'Neal
Tatum O'Neal
Yoko Ono
Bill O'Reilly
Ozzy Osbourne
Sharon Osbourne
Donny and Marie Osmond
Jimmy Page
Sarah Palin
Alan Parsons
Katy Perry
Peter and Gordon
Bernadette Peters
Robert Plant
Priscilla Presley
Billy Preston
Dave Prowse
Dan Quayle
Brian Ray
Rachael Ray
Carl Reiner
Ed Rendell
Paul Reubens (Pee Wee Herman)
Keith Richards
Tom Ridge
Molly Ringwald
Cal Ripken Jr.
Joan Rivers
Paul Rodgers
Karl Rove
Pete Rose
Richie Sambora
Adam Sandler
Rick Santorum
Vidal Sassoon
Pat Sajak
Seal
Wally Schirra
Arnold Schwarzenegger
Dave Scott
Jerry Seinfeld
Nicollette Sheridan
Brooke Shields
Alicia Silverstone
Gene Simmons
Grace Slick
Britney Spears
Ronnie Spector
Tori Spelling
Tom Stafford
Sylvester Stallone
Paul Stanley
John Stamos
Zak Starkey
Ringo Starr
Martha Stewart
Rod Stewart
Sting
John Stossel
Styx
Andy Summers (The Police)
Hilliary Swank
Lynn Swann
Clarence Thomas
Ray Thomas (Moody Blues)
Fred Thompson
Lea Thompson
Peter Tork
Pete Townshend
Verne Troyer
Donald Trump
Shania Twain
Carrie Underwood
Keith Urban
Hilton Valentine (The Animals)
Jimmie Vaughan
Klaus Voormann
Joe Walsh
Robert Wagner
Raquel Welch
Guenter Wendt
Betty White
Cindy Williams
Brian Wilson
Henry Winkler
Ronnie Wood
Al Worden
Bill Wyman
Peter Yarrow
Trisha Yearwood
Ian Ziering