<![if !vml]>

<![endif]><![if !vml]>

<![endif]><![if !vml]>

<![endif]>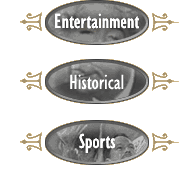 <![if !vml]>

<![endif]><![if !vml]>

<![endif]><![if !vml]>

<![endif]>
The Inkwell Gallery
P.O. Box 357
Eagleville, PA 19408
Phone: 717-337-2220
************
We accept personal
checks and the following
credit cards directly:



ALSO
ON-LINE PAYMENTS
VIA:





ALL ITEMS
GUARANTEED
AUTHENTIC!







HOLIDAY SALE!!
10% OFF ALL ITEMS!! AND FREE U.S. SHIPPING!!
(for those who pay on-line, discount will be refunded)
(lay-aways & prior sales excluded)

PLEASE CHECK OUT OUR SIGNED BOOKS AND CDs!
AUTOGRAPHS MAKE GREAT GIFTS!!!
COMING IN:
DAVID BELL BIRNEY WAR-DATE LETTER
GREAT CONTENT JOHN DAHLGREN WAR-DATE ALS
NEW ITEMS LISTED!
GENERAL GEORGE THOMAS DOCUMENT SIGNED
J. E. B STUART WAR-DATE SIGNATURE
FRANKLIN PIERCE - GOOD CONTENT ALS AS PRESIDENT
FRANKLIN D. ROOSEVELT CHECK SIGNED AS PRESIDENT
JAMES LONGSTREET WAR-DATE SIGNATURE
Welcome to our online gallery! Since our establishment in 1995, The Inkwell Autograph Gallery has offered the finest selection of Civil War autographs, Presidential autographs and Historical signed documents and manuscripts. We also have a fine selection of signed books in all fields.
Most of the books are obtained in-person by us!
Our autographs are guaranteed authentic, and nearly all are museum-quality framed for preservation and display. You can buy with complete confidence.

The Inkwell Autograph Gallery also buys autographs, whether single pieces or entire collections.
Please keep The Inkwell in mind when selling. Contact us now.
The Inkwell Autograph Gallery accepts all major credit cards and PayPal and ships anywhere in the USA.



Sincerely,

Lenamarie Natale
Owner
The Inkwell Autograph Gallery


Who has The Inkwell met in-person?!




We are members of the UACC and The Manuscript Society
No photographs or descriptions from this website can be used or reproduced without the expressed written consent of The Inkwell Autograph Gallery.